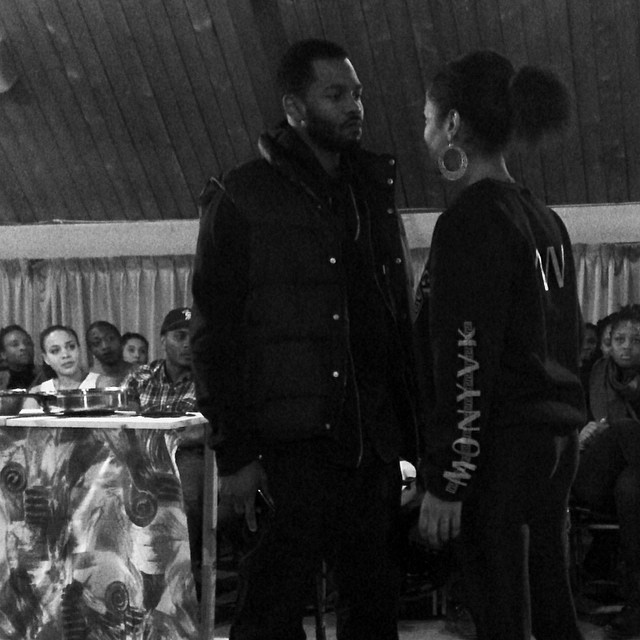 Photo: ANEEMAH (Amanda Parris) and WAN (Shomari Downer) face off in 2014 stage play  ANEEMAHS SPOT, TD Then & Now Festival
WORKING THE SCENE IN COLOUR is a live reading initiative bringing talented writers and actors of Colour and Indigenous communities together to perform original scenes from completed scripts and works-in-progress.  Selected Scenes will be read by talented ACTRA members.
Made possible by the generous sponsorship of the ACTRA Diversity Committee, the second Working the Scene in Colour event will be held at ACTRA'S Fall Conference and will be followed by a cocktail reception!
Date: Saturday, September 24th, 2016
Time: 3:30pm – 5:30pm
Location: Ted Rogers School of Business, 55 Dundas Street West, 7th Floor
Our second installment will build on the exciting success of the first and is lining up to be a stellar.
Room 219 by Lindsey Addawoo
The Deadfall by Diego Bautista Guzman
Aneemah's Spot by MOTION
Soul Mecha by Clint Murphy
Swampgrass by Aaron Yeung
China Dolls by Nathalie Younglai
Working the Scene in Colour was made in partnership with CaribbeanTales Worldwide Distribution Inc, and the University of Toronto Graduate Student Union – Race & Ethincity Caucus and support from b current, Indigenous & Creatives of Colour in TV & Film, Factory Theatre, inkcanada, Massey College and Obsidian Theatre Company.
RSVP: https://www.facebook.com/events/660442167453948