Who is ANEEMAH?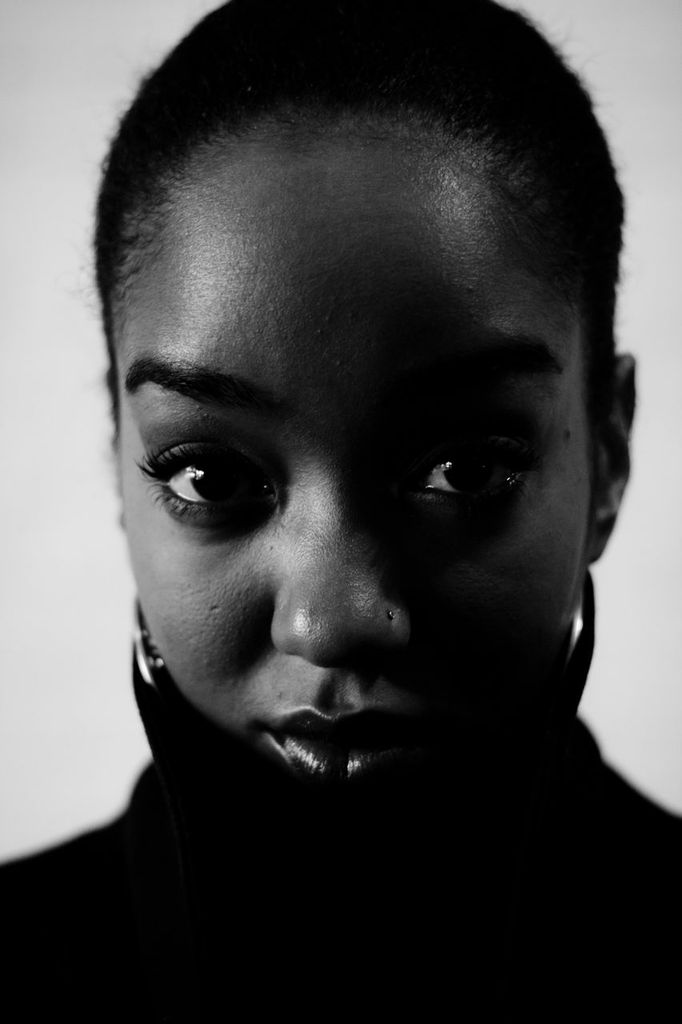 Born in London, England, descending from Grenadian and Venezuelan ancestry and raised on the south side of Jane Street in Toronto, Canada by a superhero mother, Amanda Parris is an individual motivated by multiple spaces, places and people.  Alongside her best friend Natasha Daniel, Amanda is the co-founder of the multi-award winning alternative education organization Lost Lyrics and founder of the critically acclaimed artistic collective T-Dot Renaissance.  Amanda is interested in projects that challenge, question and create ways of knowing.  Her passion for education, art and social justice has led to innovative and transformative work with organizations such as the CHRY 105.5 FM, The Remix Project and Manifesto Community Projects. She is the writer of the one-woman play 32C and was the lead role in the award-winning 2012 SummerWorks production of Motion's play Aneemah's Spot. Recipient of the William Waters Scholarship and the Joseph Armand Bombardier Canada Graduate Scholarship, Amanda is currently pursuing her M.A. Degree in the Sociology of Education at the Ontario Institute for Studies in Education.
Who is WAN?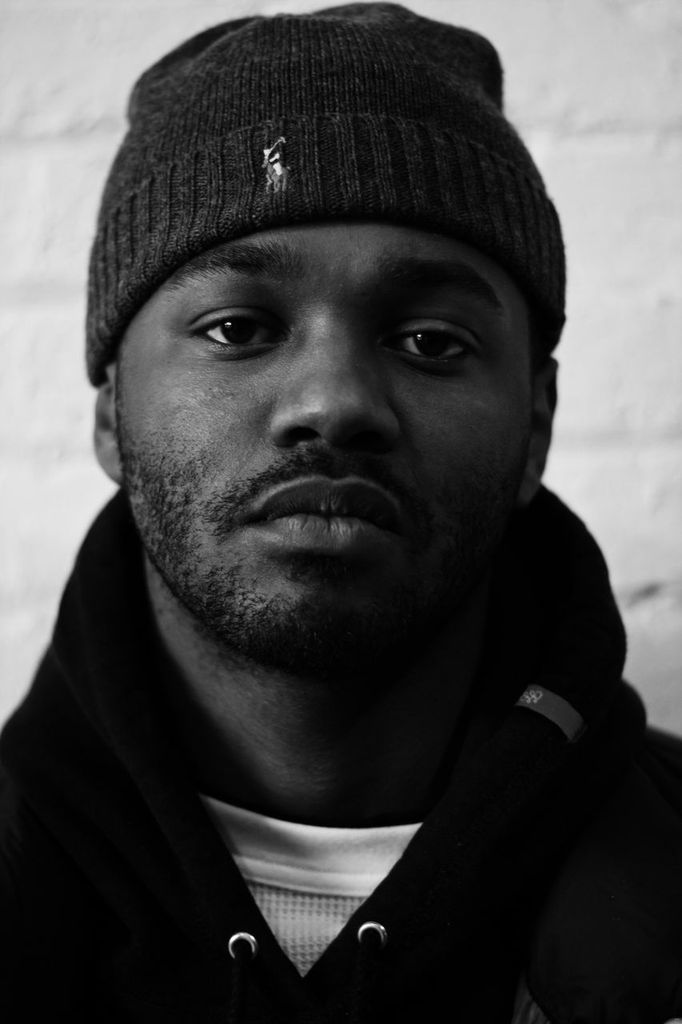 Actor Shomari Downer draws from a diverse range of life experiences, realities and communities to bring characters to life. A child between worlds, the son of British-Jamaican parents,  Shomari spent a lot of time visiting his family of 5 brothers and 6 sisters in England and growing up as a single child in with his mother in Canada. Ranging from stage to television to film, Shomari's passion for authentic story telling and honest characters has led him to explore a range of emotions – a challenge that Shomari relishes. Being cast in "Born Ready" as well as "Secrets of a Black boy" Shomari is no stranger to the stage and has found great success in cobbling together slices of life to tell moving stories through his craft. From his start on the screen in John Singleton's "4 Brothers" to him taking on the lead in the Lifetime movie "One Angry Juror", Shomari Downer has embarked on a beautiful Quixotic journey to discover himself while inhabiting the lives of others.
 _______________________________________________________________
CAST SUMMERWORKS 2012
Who is ANEEMAH?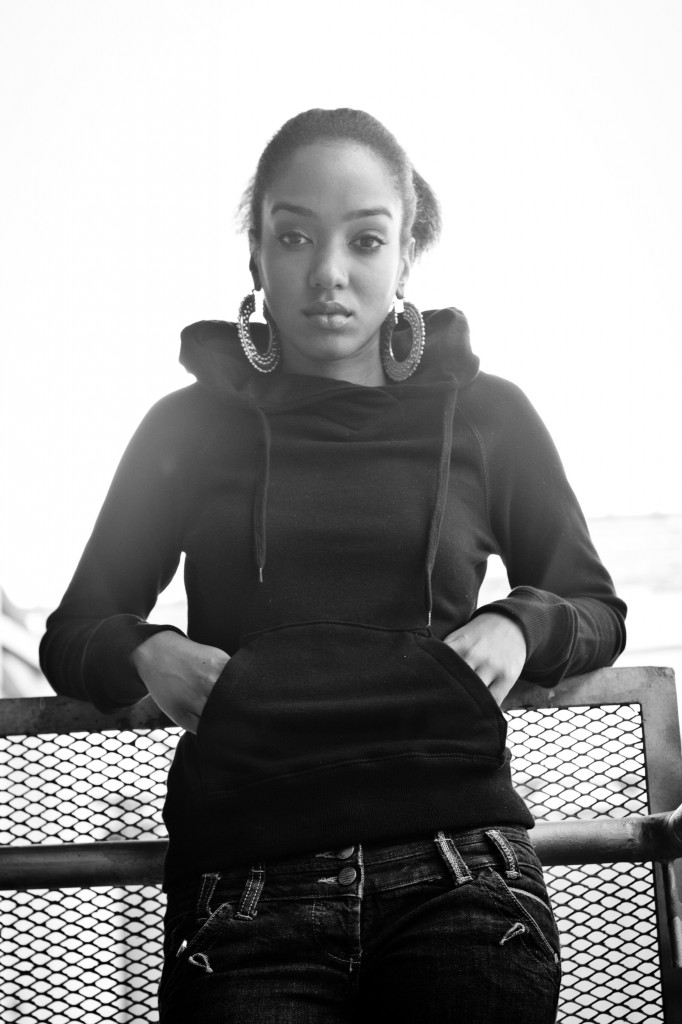 Amanda Parris a student of passion. What does this mean? She throws herself wholeheartedly and with minimal boundaries (for better or for worse) into that which moves her. She is consistently allured by that which illustrates the beauty of layered complexity and her work finds itself at a crossroads between the poetic inspirations of Audre Lorde and the unapologetic activism of Angela Davis.
Since 2009, Amanda has been performing at festivals and events throughout the city. She has studied with b'current Performing Arts Company under the mentorship of Ahdri Zhina Mandiela and Raven Dauda and was accepted as a playwright-in-residence at Anitafrika Dub Theatre where she was mentored by d'bi young. In 2010 she workshopped her one-woman play 32C at the word! sound! powah! Festival to rave reviews. 32C was an official selection of the 2011 Festival of Original Theatre at the University of Toronto. In 2011, Amanda starred in the V-Day Toronto Production of The Whores and was selected to be the Artistic Director for Wombmanifesto 2011 – the widely celebrated and critically acclaimed inaugural celebration of women and trans people in Hip Hop culture at the Toronto Manifesto FestivaI. She has continued her foray into directing after founding the artistic collective T-Dot Renaissance in 2010 and was the Artistic Director for the critically acclaimed multi-arts installation Diasporic Journeys in late 2011. She is currently starring in the Summerworks Production of ANEEMAH'S SPOT and writing her second play The Don. This play explores the narratives of three women sitting in the waiting room of the Don Jail.
Who is WAN?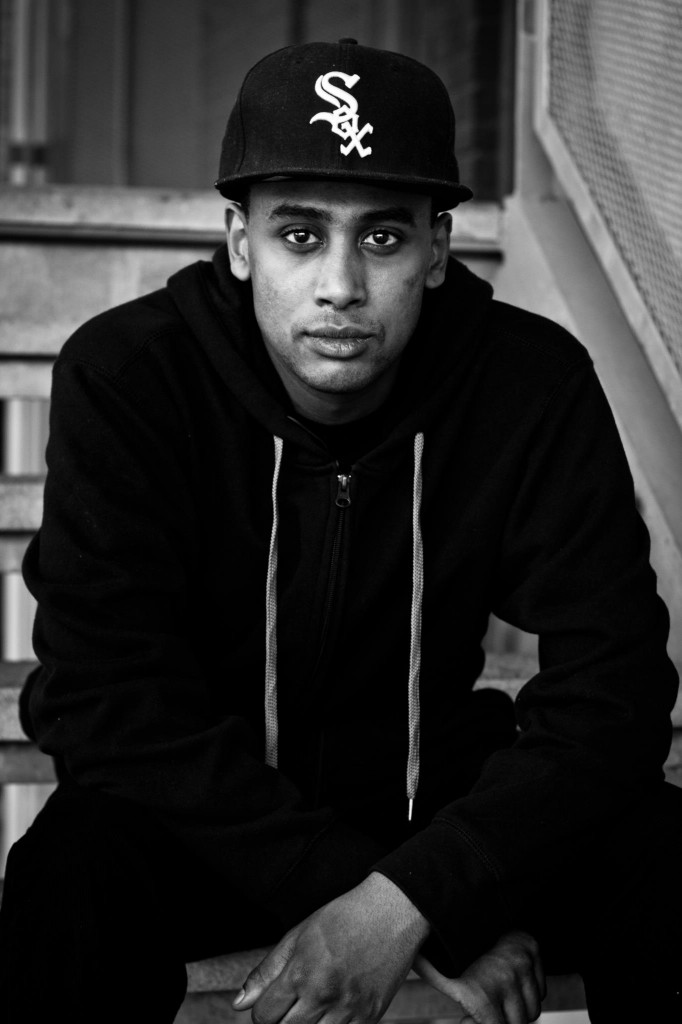 Araya Mengesha can usually be found on a stage somewhere in the city performing. A storyteller, using his ability to act and write, he tries to find as many different ways to connect with people as possible. Currently, he can be seen in ANEEMAH'S SPOT, as well as The National Theatre's War Horse (Mirvish). Other notable theatre credits include: The Africa Trilogy/Another Africa (Volcano Theatre/Luminato Festival/Canadian Stage), Rice Boy, Macbeth, Julius Caesar (Stratford Shakespeare Festival) and Disney's The Lion King (Mirvish). Film/TV: Cul De Sac, Nurse.Fighter.Boy., Degrassi:TNG, Nikita and Mystery Hunters (for which he recieved a Gemini award for Best Host of a Youth/Children's Program). A graduate of Ryerson Theatre School for Acting, Araya dedicates his performance to his family and is grateful to have been able to work on this project with these dedicated artists. 1love.
_______________________________________________________________
CAST ROCK PAPER SISTAHZ 2011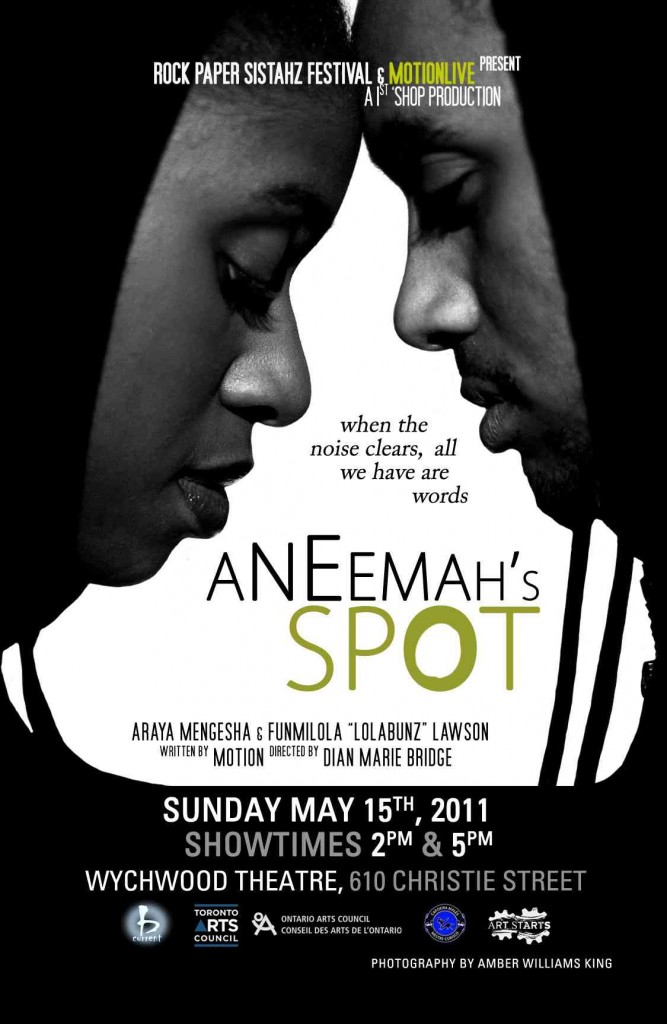 Who is ANEEMAH?
Emcee, actress and spoken word artist, Lola Bunz Lawson has been featured in anita.afrika theatre's groundbreaking "Jinch Malrex" and starred in the Amy Project's "Check OUT!" And more on the horizon: Shows, studio and anticipated mixtape coming soon.
Who is WAN?
From screen to stage, Araya Mengesha brings the drama, appearing in the acclaimed "Nurse.Fighter.Boy," "Soul Food" and on the Stratford stage. A talented actor and spoken wordist, he is an alumni of bcurrent's rAiz'n project. Catch him next in "Another Africa" at CanStage's Bluma Theatre this fall, and later in "Purple Don't Cry" as part of the Theatre Passe Murielle's 11/12 season.